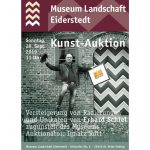 Auction of works by Erhard Schiel for the benefit of the museum
The versatile artist Erhard Schiel, at home in St. Peter-Ording for more than 30 years, provides several original colour etchings and some unique pieces for an auction in favour of the Museum Landschaft Eiderstedt. The auction will take place on Sunday, 29 September 2019, at 11 a.m. at the Museum in St. Peter-Ording. As auctioneer Ignatz Rott will guide through the event. With the planned auction the artist wants to support the work of the museum.
Erhard Schiel, who became known for his etchings, copperplate engravings, large-format oil paintings and various exhibitions at home and abroad, has always had a special relationship with the Museum Landschaft Eiderschaft. Already in 1999 he showed the views of the 18 Eiderstedt churches in various techniques with the exhibition "Kirchen auf Eiderstedt".
The artist Erhard Schiel with his wife Ingrid and museum director Sabine Graetke
Museum director Sabine Graetke is pleased about many visitors who come to Olsdorfer Straße in St. Peter-Ording on 29 September to take the opportunity to buy a "Schiel" at an auction and thus support the Museum Landschaft Eiderstedt at the same time. All interested parties are cordially invited. Admission is free.
Everything at a glance:
When: Sunday, 29 September 2019 at 11.00 am
Where: Museum Landschaft Eiderstedt – Olsdorfer Str. 6 – 25826 St. Peter-Ording
Flyer: Download the flyer as pdf here.
Download announcement as pdf.
Newspaper report: Husumer Nachrichten No. 218 of 18.09.2019